Confederation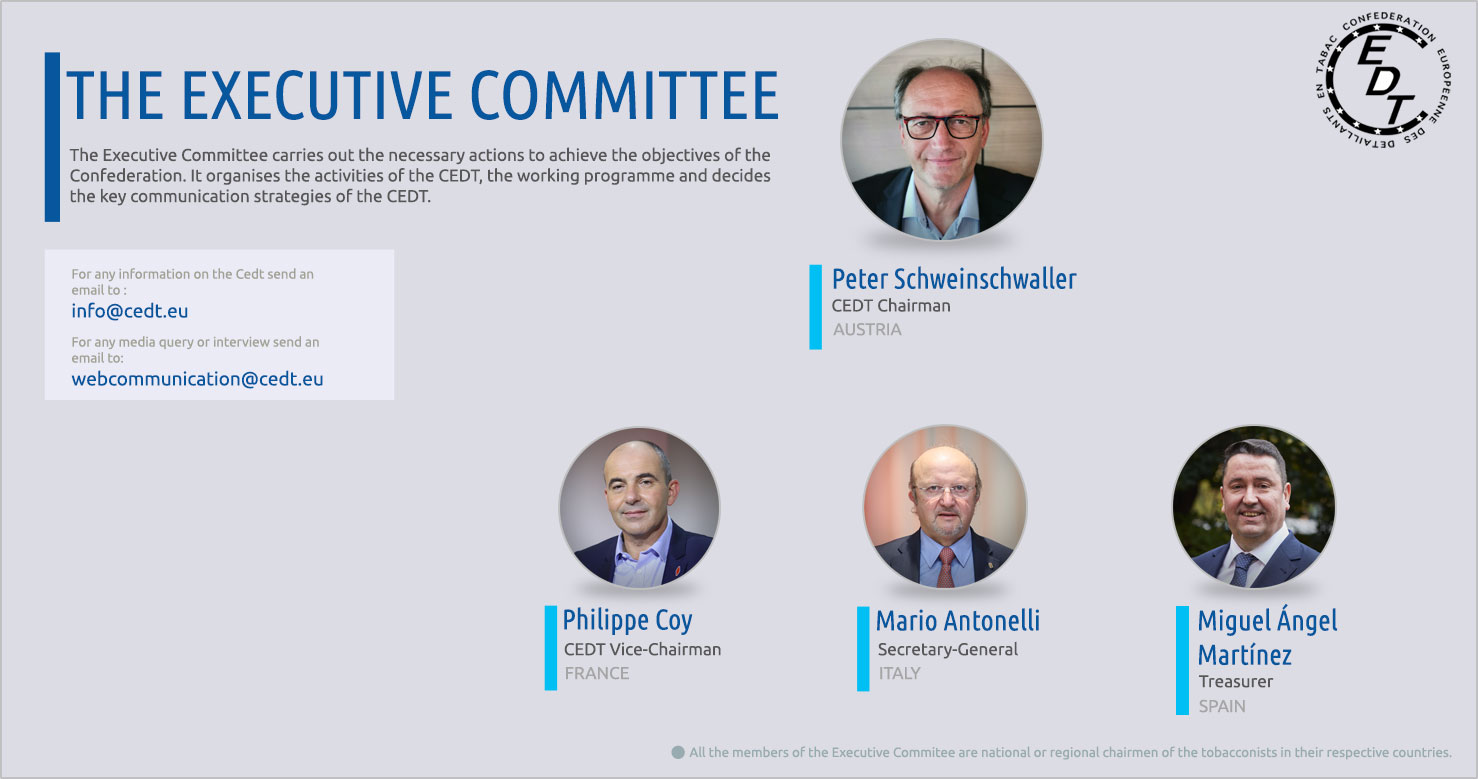 The European Confederation of Tobacco Retailers (CEDT), founded in 1970, is a European Economic Interest Group that brings together national associations of tobacco retailers. We are part of the Transparency Register (n° 85326064523-94) in compliance with EEC 2137/89 Regulation.
The main purpose of CEDT is to promote the interests of almost 150,000 European tobacco retailers, professional figures serving their States and the citizens by ensuring the legality of the sales circuit, the authenticity and quality of peculiar products such as tobacco, supporting an adult and conscious consumption only, in line with national and European standards for health.
Our goal is to support and promote a continuous dialogue with Institutions and stakeholders to ensure that our small family enterprises can operate within a clear regulatory framework, marked by balance and proportionality. We support any necessary initiative concerning the recognition of our role as a legal defense against any kind of smuggling, counterfeiting and illegal trafficking. We support the promotion of sale systems controlled by the state.
We support the need for tobacco products to be sold exclusively through controlled channels, operating with a license or a concession.
news

Special Focus
x
2020/03/27

share:

CANNABIS: GROWING PROSPERITY, REGULATION TO BE MADE

For many years, there has been a worldwide growing interest in the use of cannabis for therapeutic or recreational purposes. Although the European Parliament approved the resolution on the medical use of cannabis in 2019, clear regulations on recreational cannabis are becoming essential.

Recreational cannabis was not always regarded as an illicit product for its consumption was widespread throughout the world in the 19th century. It was at the beginning of the 20th century that cannabis started to be seen as a drug and the first prohibition laws on consumption date back to the 1930s. In 1961, the United Nations ratified the Single Convention on Narcotic Drugs authorising the production and use of narcotic drugs only for medical or scientific purposes. Thus, cannabis even with very low THC levels has been reduced to the generic concept of a mere narcotic.

Even though some countries have decriminalized or legalized the use of recreational cannabis, such as Uruguay, Canada and some US States, this sensitive product is still largely banned. Therefore, its sale in the hands of clandestine networks or spontaneous shops that take advantage of the "confusion" on the product profile does not provide health guarantees, protect consumers and generate tax revenue to States. Consequently, its growing popularity requires filling this legal loophole through a regulation to control the sector from production to distribution and up to the final consumer.

According to our organization with representatives from eight European countries, there are big differences between States in the legal and trade approach to this product.

We believe it essential that consumers be well informed about the different forms of the product and its derivatives (marijuana, hashish, resin, oil, etc.) as well as the range of its uses (industrial, therapeutic, well-being and recreational).

In addition, the THC and CBD levels contained in the cannabis plant makes the product risky to consumer health, thus classifying it among the sensitive products, such as tobacco for example.

Furthermore, our 160,000 tobacco retailers in Germany, Austria, Belgium, Spain, France, Greece, Hungary and Italy are responsible individuals having necessary experience and appropriate technological tools to guarantee effective quality control and product sale, protect minors and consumers and ensure regular tax revenue.

In conclusion, in the framework of the cannabis legalisation, this particularly sensitive product should not be sold on open sale but entrusted to a network of controlled retailers allowing thus to limit and regulate access to cannabis. Therefore, CEDT considers that the tobacco retailing networks, retailers of a sensitive and particular product such as tobacco, are the perfect trade to fulfil this mission.

 
Close
Press Room
Multimedia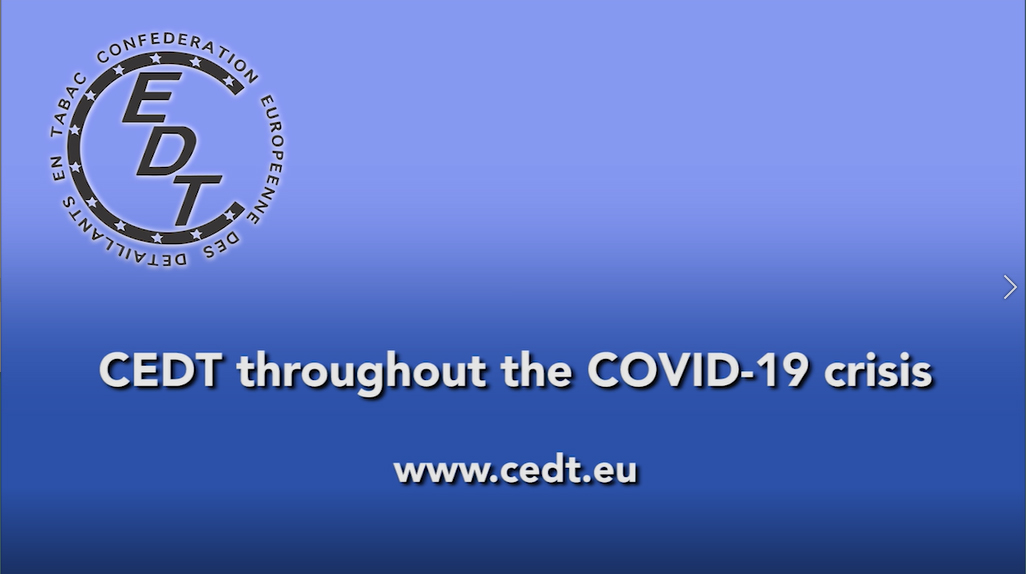 2020/05/07 Covid-19 crisis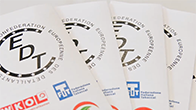 2019/10/17 Inauguration of the CEDT premises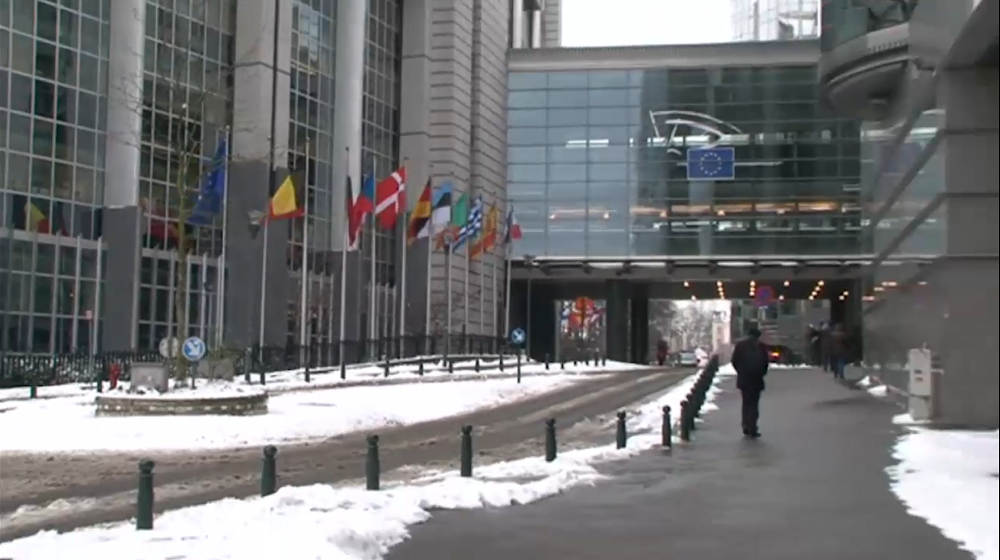 2019/04/30 Video of the demonstration in Bruxelles
x
Address
European Confederation of Tobacco Retailers.
Rue Montoyer, 31 B-1000 BRUXELLES
Phone: +32 (0) 7721305